Greg Ballard
Mayor of Indianapolis, 2008-2016
Before he was elected mayor, Greg Ballard navigated international countries and cultures through serving in the United States Marine Corps, ultimately finishing his military career as a lieutenant colonel.
As Mayor of Indianapolis, Greg Ballard was a driving force of innovation, infrastructure, and international relations across the state. His work ushered in a new era of foreign investment in Indiana and truly elevated Indianapolis on the world stage. But for Greg Ballard, his experience navigating international countries and cultures began long before he was elected mayor.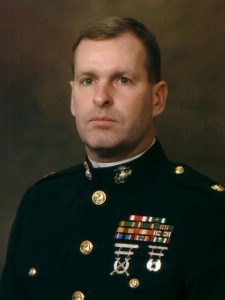 After graduating from Indiana University, Ballard went on to join the United States Marine Corps, where he attended the Marine Corps Command and Staff College. He obtained his Master's Degree in Military Science and Operations Analysis and was soon transferred to his first foreign outpost in Okinawa, Japan. Ballard went on to serve in the Gulf War and then the United States European Command in Stuttgart, Germany, where he retired from the military in 2001. By then, Ballard had served for 23 years, received numerous awards, and finished his career as a Lieutenant Colonel.
Ballard's next stop was his hometown of Indianapolis, where he made great strides in his personal achievements. He worked as the North American Operations Manager for Bayer Diagnostics, taught seminars at the Indiana Business College, published an autobiographical book about small-unit leadership, and eventually became a self-employed Leadership & Management Consultant.
In 2007, Greg Ballard made waves as the only Republican to run for Mayor of Indianapolis—an election he won in the "biggest upset in Indiana political history." As the city's 48th mayor, Ballard focused on building Indianapolis' global reputation and expanding the city's international business capabilities.
During his time in office, Ballard led over 20 international trade meetings, nearly 215 company meetings, over 10 trade show exhibitions, and hundreds of formal presentations and receptions. He traveled to over 50 different places to meet with local government officials and created two new positions in the Mayoral Cabinet—the International & Cultural Affairs Director and the Latino Affairs Director.
Ballard even expanded the Indianapolis Sister Cities program to rival other capital cities across the nation. He doubled the original number of sister cities from four to eight and made the program so successful that it won the title for Best Overall Program in the Nation in 2013.
In addition to his international work, Ballard also brought foreign cultures to the local Indianapolis community. He was a catalyst for the creation of the Indiana Latino Expo, and he sparked a wave of new events and cultural festivals across the city. Events like the annual Chinese Festival, India Day, and the Sister Cities Fest all began during his tenure.
In 2016, Greg Ballard decided he would not run for a third mayoral term, but he remained a powerful advocate and a true ambassador for international relations in the Indianapolis community. In fact, the Indiana India Business Council (IIBC) recognized him with the Indiana Ratna in 2019—an award recognizing individuals who made a profound impact in both Indiana and India.
"Greg Ballard has been a leader in developing economic opportunities between Indiana and India," said Raju Chinthala, Founder and President of the IIBC. "As both Mayor of Indianapolis and a Visiting Fellow at the University of Indianapolis, he has forged a strong relationship between the people of Indiana and India."
The International Center also recognized former Mayor Greg Ballard and his wife with the 2014 International Citizens of the Year Award. This recognition honored their continued support and contributions to the City of Indianapolis and the local international community over the years.
In the words of K.P. Singh, former President of The International Center: "Mayor Greg and Mrs. Winnie Ballard represent a unique team that have been tirelessly working to build Indiana's international community; to expand Central Indiana's outreach to other continents; to promote and attract businesses and international talent to Indiana; and to re-invigorate our city's ethnic communities and international pride at many levels and in many ways.
"Together Mayor and Mrs. Ballard have made exploring and celebrating the diversity of our community's cultural assets a major commitment. They are, by far, Indiana's most outstanding international ambassadors!"